Phoenix Motorcycle Training® Amesbury Salisbury was the first Phoenix training centre established in 1999.
There are now 16 Franchised Phoenix Motorcycle training centres nationally. At the Amesbury centre we offer CBT DAS Improver and advanced motorcycle training and is the centre of excellence for Motorcycle InstructorTraining.
Phoenix Amesbury is located on the Hampshire Wiltshire border in Amesbury Salisbury and well placed to serve Tidworth, Salisbury, Bulford, Durrington, Shrewton, Andover and the surrounding area.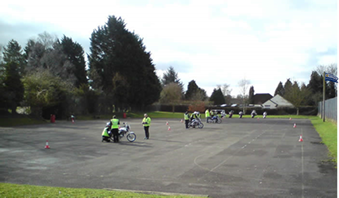 The Amesbury site has all on site facilities, classroom, toilets, refreshment area, motorcycle storage and a large safe approved motorcycle training site. There is a bus stop just 100yds from the entrance which services all routes. The surrounding area is ideally suited for beginner riders with quiet roads and scenic routes over Salisbury plain although the city of Salisbury is only a twenty minute ride away.
Our fleet consists of 50cc Mopeds, Honda CG 125cc, Kawasaki 650cc ER6.
With over 17 years of experience, get you bike training with us!!