"The training that I received during the Direct Access Scheme was extremely thorough, yet still enjoyable. Paul went above and beyond all that was expected with regards to the mod 1 and 2 test preparation, surpassing all previous expectations. I could not rate Paul's professionalism and upbeat "get things done" attitude any more highly! I would recommend this training course to anybody whom is enthusiastic with regards to getting on the road on two wheels! Nick Hibbert"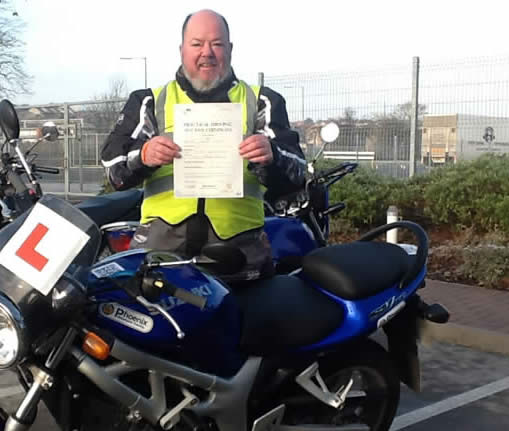 Thoroughly enjoyed training @ Phoenix 5 star all the way,thank you very much Paul and Mike.
Tony
From CBT to full license! Well done Tony and only 2 minors.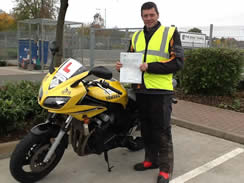 Barrie passed Mod 2 with 2 minors with Phoenix Motorcycle training in Bristol!
Excellent tuition thank you.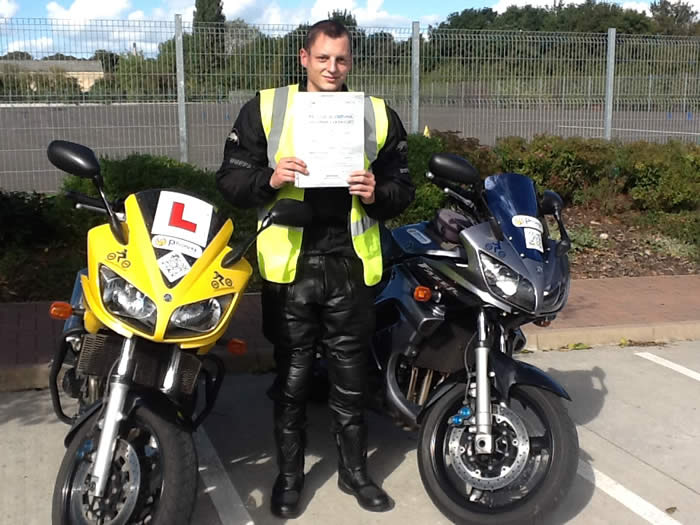 Richard Pearson passes Mod 2
Hello Paul

Just a quick email to say thank you for sorting out my bad habits and getting me through my Mod 1 & Mod 2 tests the first time on both occasions.

A brief history on my motorcycle training for anyone reading this. I completed my CBT with another provider in 2011 but was not entirely happy with them so when I was ready to undertake training for Mods 1 & 2 I looked around and found someone else. I decided to go it alone and booked my Mod 1 test and during riding around I stumbled on your school whilst looking for an area to practice in.
I was impressed with the training area for several reasons, firstly the size of it which meant that there was no reason to go and find a road somewhere to train on so no need to worry about cars etc just focus on what you were being shown. Secondly the layout in the area, it was exactly the same as for the Mod 1 test which I found helped during my training with you. I was also impressed with the interaction with Phoenix and the student I saw training and yes I said student it was one to one training as I had when I booked with Phoenix.
I contacted Paul who was at the test centre at the time and he sent me back dates and costs to get me through the Mod 1. I booked and we focused on very basic things at the school and then had a Mod 2 training session whilst en route to the test centre. Mod 1 passed first time with Phoenix, Booked some more training with Phoenix for the morning of my Mod 2 test, now I was nervous about this, my riding was pretty poor but Paul managed to calm me down and sort out what was going wrong and passed my Mod 2 test first time.

I used 3 training providers to pass my test, I wish that I would have found Phoenix at the start of my training as I would have saved both a lot of money and time and had a lot more enjoyment with my riding as I finally had with Phoenix.

Well done Paul and thanks again.

Best Regards Paul Sheppard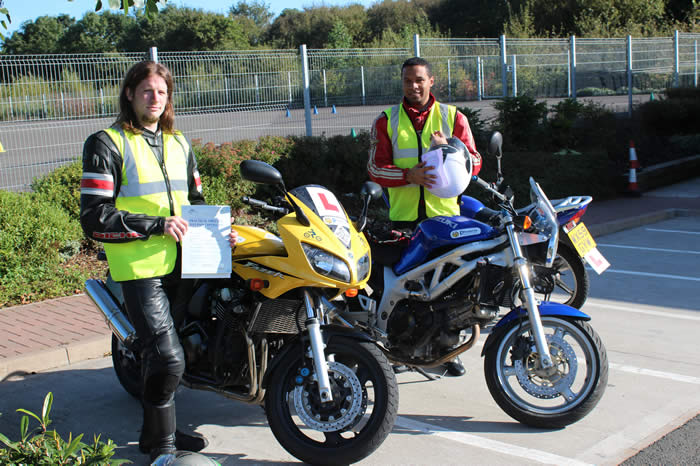 Aaron Tovey passes Mod 2 and Guiseppe passes mod 1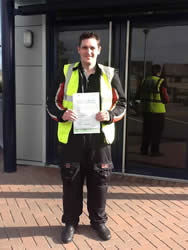 "First Bristol Phoenix MOD 1 & Mod 2 pass candidate!
"Brilliant fantastic outstanding the list goes on"

Lee Morgan.


A great trainer, second time for my CBT. Trainer taught me well and refreshed my memory!
Lewis Herbert 125cc CBT 30/07/2012
A very patient and professional trainer who looks after personal weaknesses and skills gives advice and takes everybody individually. Very good!
Katarzyma Polechouska !st time bike rider CBT 125cc 19/07/2012